In the run up to the Beijing Olympics I'll be posting some photos I've found around the net by other people which express my sentiments.
The Chinese Government's treatment of dissidents is appalling.
They tolerate no disagreement.
They've erected a huge firewall to prevent their citizens from reading anything online that criticizes their government.
Chinese people are beautiful, intelligent and gracious.
But the Chinese Government… they're nothing but amoral thugs.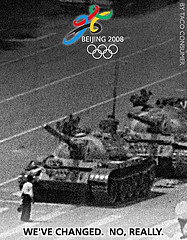 "Beijing Olympics 2008" by http://www.flickr.com/photos/kongharald/